The Challenge is simple – you will spend 6 weeks improving your health, happiness, and overall connectedness.
THE RULES
Here's how it works – Each day, players get points for completing each of the 7 Daily Habits:

GAMEPLAY
Each habit is worth 5 points per day upon completion. Scores are recorded on the WLC website, keeping you on track and accountable for your results. All scores except nutrition are yes/no, with 5 points being awarded for completion, 0 points for non-completion. Nutrition is the exception – you start each day with 5 points and deduct 1 point for each serving of non-compliant foods you consume.
COMMUNITY
Playing alongside a team is an important part of the Whole Life Challenge experience, keeping you motivated, on-track, and accountable for your daily progress. Playing on a team is not required, but for those interested, it's an easy way to help foster success. You may play alone, join a team with your gym, friends, or workplace,  join an existing public team, or create your own team upon enrollment.
PROGRESS & RESULTS
Measuring results is a key part of the Challenge experience. Throughout the Challenge, you will track your daily score over time and complete a before and after Self-Assessment to track changes to your quality of life, physical health and workout goals.

HEALTHY COMPETITION
While the point of the Whole Life Challenge is much bigger than "who wins," a little healthy competition creates greater accountability to your self and your team, and can be very motivating!
At any time during the Challenge, you can see where you stand on your team and how you and your team stack up against the rest of the Whole Life Challengers around the world.
Simply open the side menu and click on "LEADERBOARD."
Here's a sample: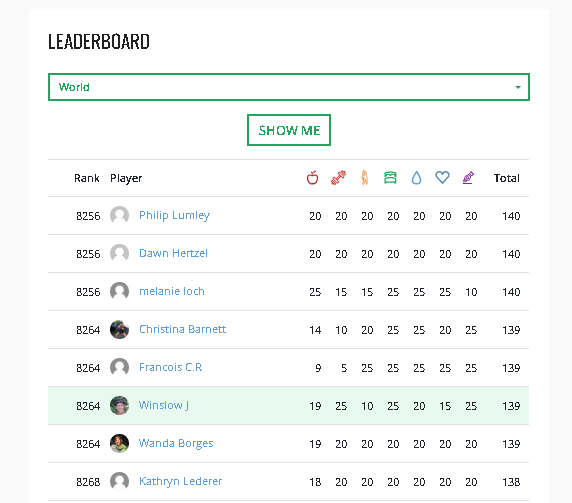 If you are on a team or teams (you can be on up to two teams), you'll see options to view where your team stands against other teams as well: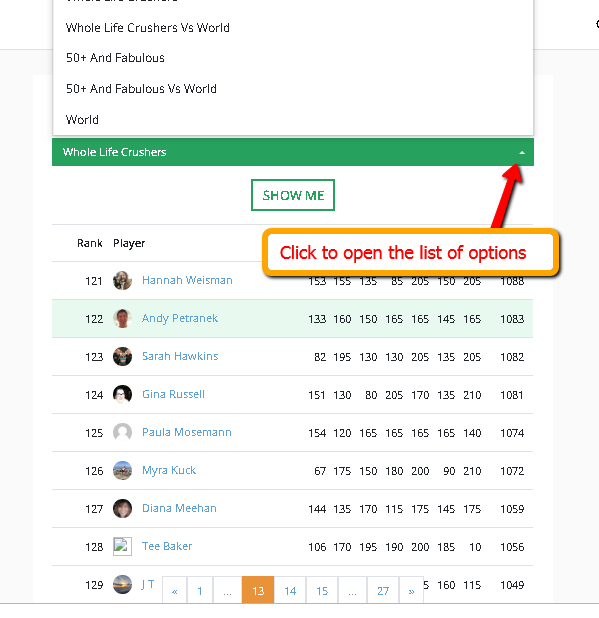 While competition is not the main focus of the Challenge, it can be fun to see how you personally and your team as a whole can climb up through the ranks. You and your team will need to work together to hold each other accountable. If you do, the results could surprise you!