Keeping Your Team Playing - It's up to You
Players tend to drop off after 4-5 weeks of the Challenge, but you can help them stay on course with small, proactive steps. This week's Captain's Practice, the Captain's Post, will inspire your team twice this week and every week of the Challenge on Wednesday and Friday
Sample Captain's Posts and Instructions
Why do these Captain's Practices?
We know that the Whole Life Challenge isn't easy for players (especially first-timers). It represents a radical shift in behavior for most people, and as such, players tend to drop out or reduce participation after their initial enthusiasm wears off (typically starting in Week 4). They run into restaurants, parties, late nights, early mornings, and stress, and their willpower fades.
Unfortunately, this means they drop off just when real results start to appear.  
That's where you come in.
As the Team Captain, you have a profound ability to influence your Players' motivation and drive to continue when the going gets tough. You are their anchor, their Jiminy Cricket, their conscience, and their guiding star. You are also their best example.
Let's start using that influence right now, utilizing a tool that's already built into the Challenge: the Captain's Post.
We'll begin helping our players stay on target by writing two Captain's Posts this week — one on Wednesday and one on Friday (and we'll continue this practice throughout the Challenge). A Captain's Post is a message to your whole team, pinned to the top of the Communication Feed. You can create one by selecting "Captain's Post" in the dropdown when you write an update (desktop) or checking the Captain's Post box (in the iOS App).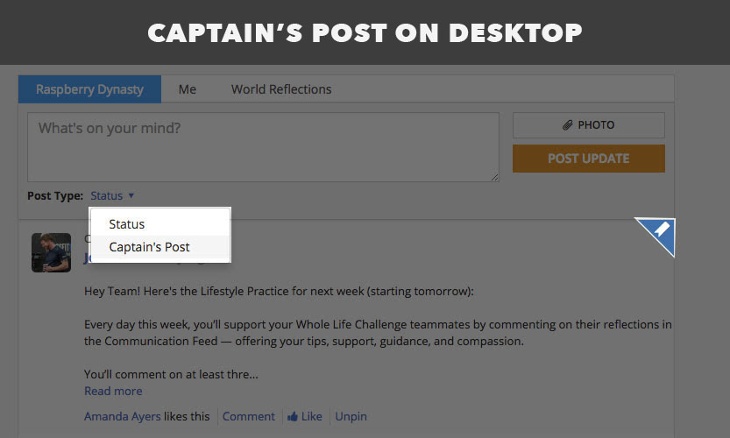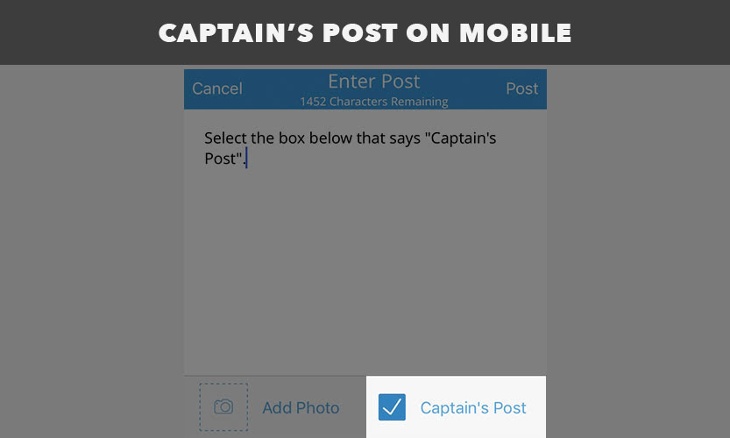 The idea behind the Captain's Post is to increase your Players' understanding of the Challenge philosophy, while providing encouragement, feedback, and tips that will help them succeed (and stay in the Challenge).  
Good luck with your Captain's Posts this week.  You'll be helping your team and making the Challenge better for everyone — a worthy accomplishment. 
Here are some sample posts to inspire you, pulled from our own Captain's Posts to our teams. You'll want to edit them to fit your style and details, but they should help you create your own posts without starting from scratch:
Sample Post 1:
Good afternoon, Team. Welcome to Day 4 of the Challenge (with 38 left to go).
I think the next 6 weeks are going to be awesome, but it's going to be important to support each other so we all make it through successfully. Toward that end, I think it's good to know each other and what we're in this for.
I'll start:
I'm Jenna, the team captain. In addition to working for the Whole Life Challenge, I run a small business out of my home in Wellesley, MA. The reason I do the Challenge is that the changes it brings are great for my overall happiness. I'm calmer, kinder, and more connected with myself by the end. For reference, I've done this three times — Last January, last September, and now, and the results have been really transformative.
I've found that when I engage with the Well-Being Practices (like no electronics, meditation, calling friends, breathing, etc.), life gets a lot better really fast. Letting go of sugar and alcohol improves the heck out of my mood, and it doesn't hurt that everything in the mirror looks better. I also like the accountability of entering a score every day. While I'm not super worried about perfection, just knowing that you guys will see my score makes me want to work hard to stay on track.
If you would, take a second to let everyone know where you are, what you do, and why you're doing the Challenge. We'll be a stronger team when we know each other.
Sample Post 2:
Tips for Having a Better Challenge (when things get rough)
I'm thinking about you guys today, and how I can help the whole team have a better Challenge.  
Here's one of the concepts that helps me a ton: pursuing the habits with consistency rather than intensity.
In other words, I think it's more important to do a habit every day in SOME form than to do that habit every day in its OPTIMAL form. How might this look?
Well, I've been sick this week. Stuffed up, just feeling badly. I'm also a sprinter, lifter type of athlete. I can't get in exercise as I usually define it (high intensity blasts) because my lungs would collapse and I'd cough all over the place.
So, what does exercise become? A 10-minute walk.
Flexibility is usually done with a foam roller, bands, lacrosse balls, and a lot of focus and effort. Problem is, I'm in Los Angeles for a bunch of meetings, and I have none of that stuff. So in the name of preserving the habit, I found another way: straddles, toe touches, and some neck/shoulder/knee circles.
I think 42 days of perfection would be awesome. It would also be nearly impossible. Instead, think of how you might get consistency in your habits, and especially, what you might do when your habit cannot take its optimal form.
Other Ideas for Captain's Posts
Ask a Helpful Question (and answer it yourself to start the dialogue):
What is the one thing you struggled with most this week that you could use some help on? Personally, I've had a hard time getting my hydration points, and would love to hear what you guys are drinking to keep things interesting.
Challenge your Team to an Additional "challenge":
This week, I'd like everyone to try an activity they've never done before for exercise. For instance, you could try yoga or pilates, go for a hike, rent a bike, join a running group for the day, or play a new sport. The only criteria: you can't have done it before.  So...what's everyone going to try?
Share WLC-Compliant Recipes
Hey Team! While looking for dinner ideas, I ran across this steak recipe. It's compliant on all nutrition levels, and I ended up making it for my family on Friday. It was delicious:
https://www.wholelifechallenge.com/an-epic-cast-iron-ribeye-steak-recipe
Give Your Players a Tip to have a Better Challenge
Hi Guys. I did something yesterday to keep my scoring on track, and I thought I'd share — I set my phone alarm for 7:00 p.m., so that I'd get a daily reminder to enter my score into the WLC site/app. After four Challenges, I've found that it's easy to forget, especially in later weeks, so having the alarm set is perfect — plus I'm sure to score the same day that I actually did the Habits, so I'm never trying to remember what I did 24 hours later.