It's a Low-Stress Situation!
Welcome to the Whole Life Challenge. Playing the Challenge on a team can make the experience more fun, easier to stick with, and more community-building than playing alone. It's also fine if you prefer to play alone, but this article is to help players who need information on creating, sharing, joining, or leaving a team or teams.
Did you know - about 90% of Whole Life Challengers play on at least one team each Challenge?
You can be on up to two teams at any time, but only one of those can be an official team. If you aren't able to join a second team, then both teams you are trying to be on are official teams. You'll have to choose one or the other of those two, but you can still join any another unofficial team.
As you'll see, dealing with teams in the Whole Life Challenge is simple and easy once you know how, and there are no time limitations to join or leave any team. Like we said - a low-stress situation. Let's get started!
I Want to Join a Team I heard about, but I've Already Joined the Challenge
No problem! Once you reach your Game Dashboard, simply click the orange JOIN A TEAM button near the top of your screen. From there, you'll be able to search by team name, captain, another player on the team, location, or keyword(s).
Please note that keywords and location are only searchable for a given team if the captain has entered them.
Before scoring has begun, there will be an orange JOIN A TEAM button on your dashboard: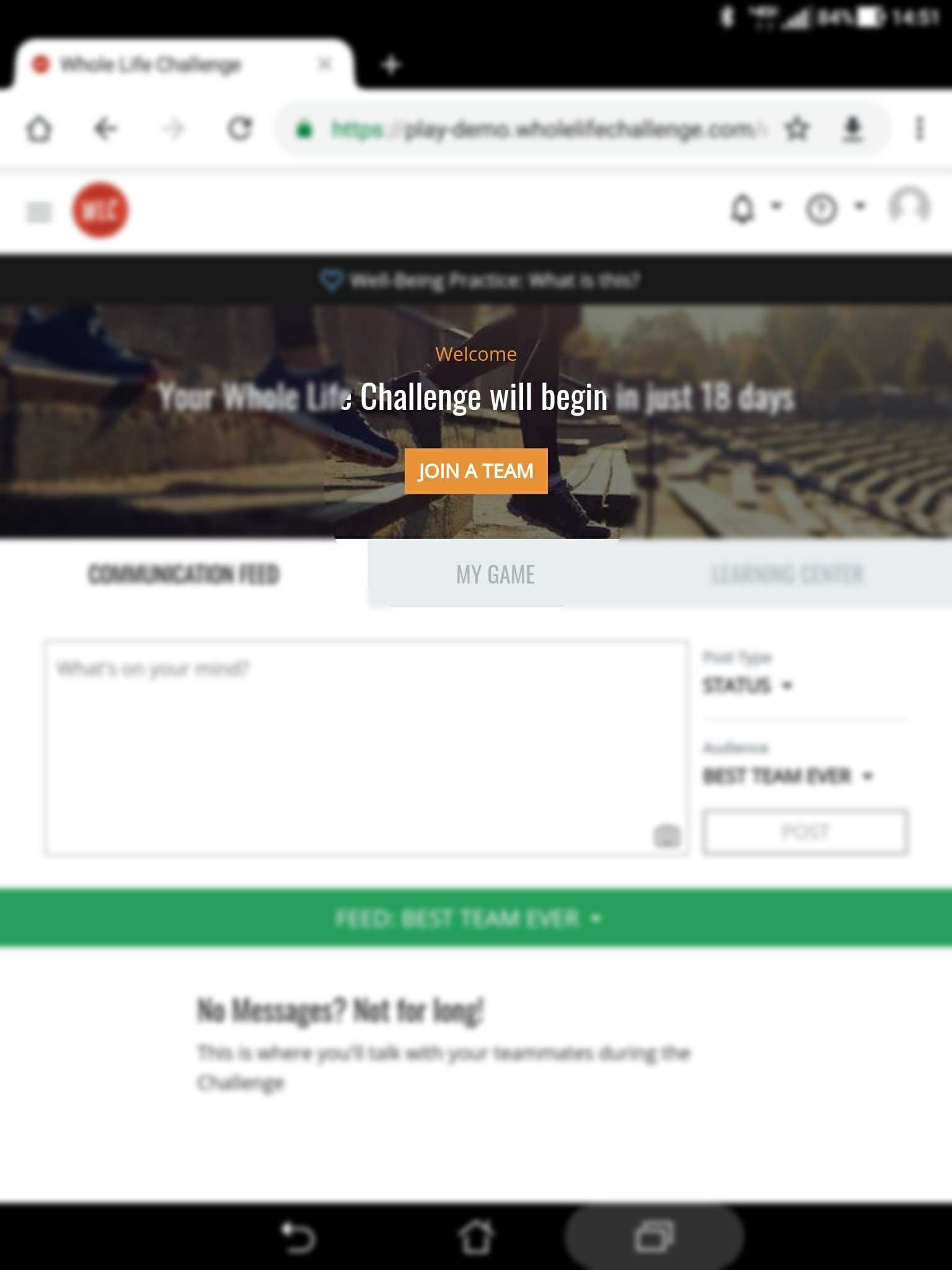 After scoring has started, the JOIN A TEAM button will be replaced by the scoring buttons, but don't worry, you can still join a team using the menu option: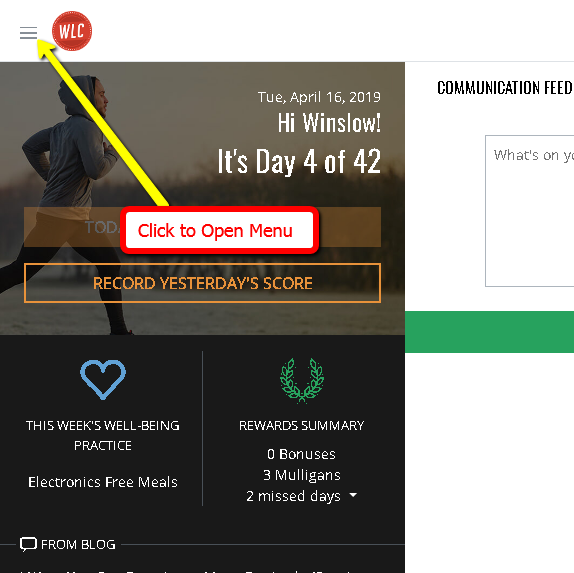 then select Join a Team: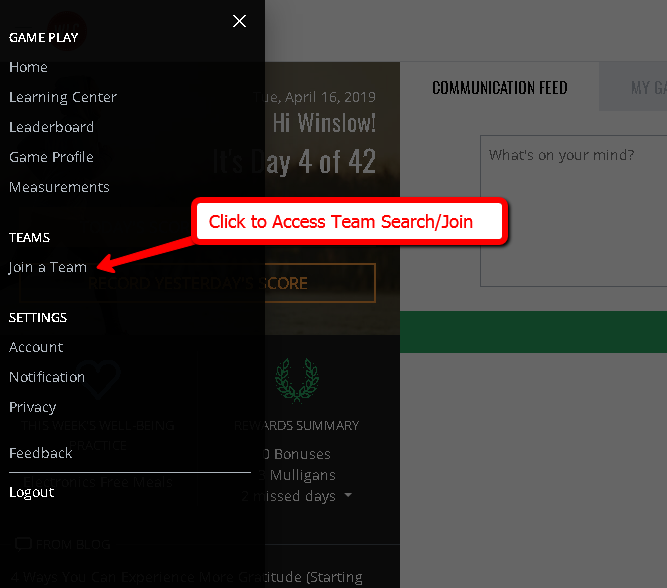 I Want to Join a Team Before I Sign Up
(AKA I have a join link - what do I do with it?) We appreciate your excitement! If you click on a join link that was shared to you by your team captain, you'll automatically be added to that team once your registration is complete. You will need to reach your game dashboard to see that you're on the team, though, so please complete the setup interview once you're logged in to the site.
In case you need it, you can click here to log in.
As soon as you get to your Game Dashboard, you'll be able to check to make sure you're on the team by opening the "hamburger menu" (tap on the three lines) in the upper-left corner of your screen.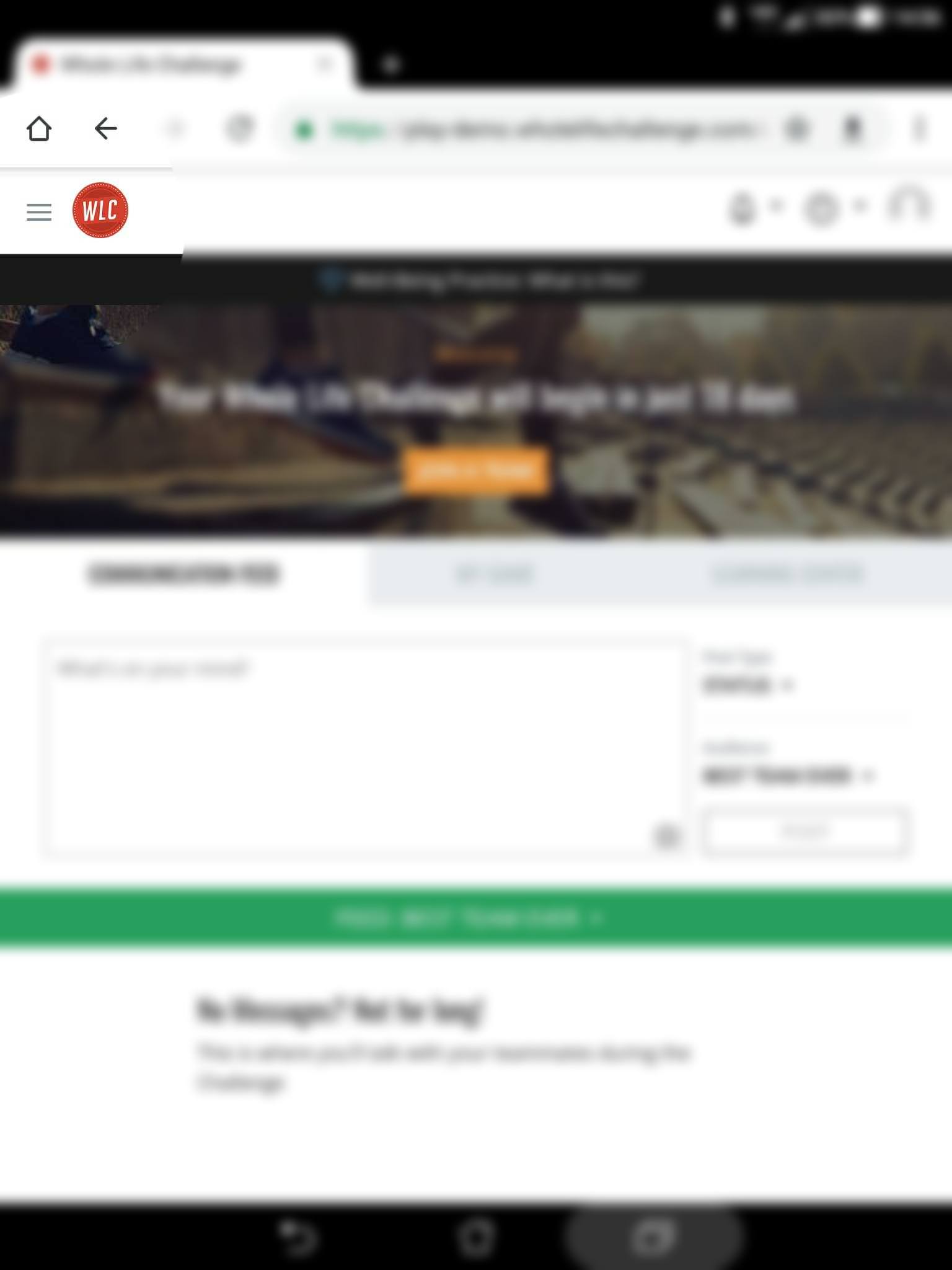 Then, check for the team name in the TEAMS section: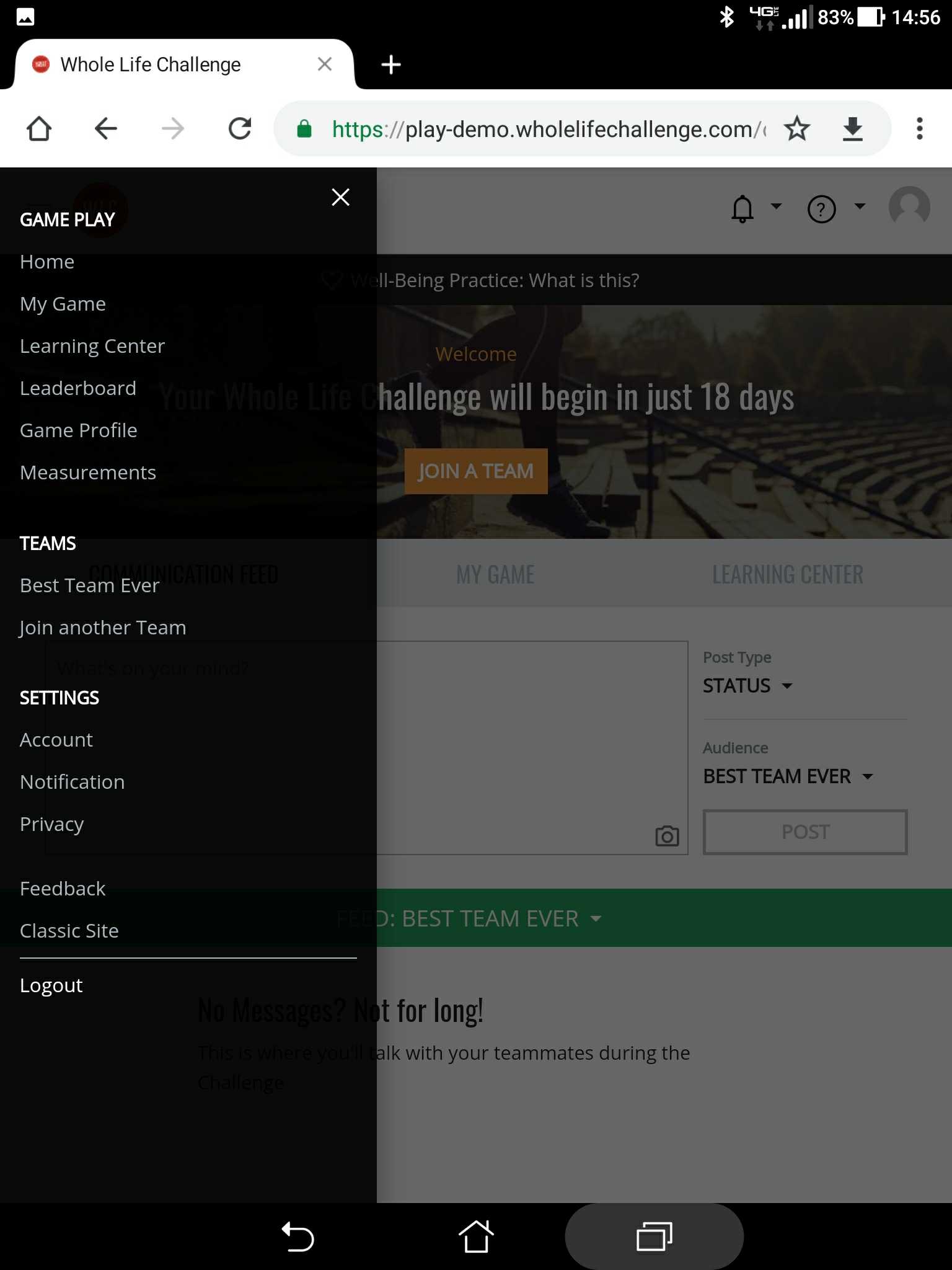 To jump right to your team page, tap or click on the name of the team in the hamburger menu.
A Friend Sent Me a Team Join Link, but I'm already Registered!
Easy! Make sure you're logged in, then click the join link. Follow the prompts, and you're on the team. You could also use the same search method outlined above and you wouldn't need the joining link at all.
I Want to Create My Own Team
OK, awesome! Please start by clicking the JOIN A TEAM button, top-center on your Game Dashboard. Then, click the orange CREATE TEAM button in the upper right corner of the new screen. Enter the info in the fields, and you're done!
Now that you have a team of your own, open the INVITE PLAYERS tab and share your new team on Facebook and/or grab a link to send to your friends, coworkers, or anybody you want to.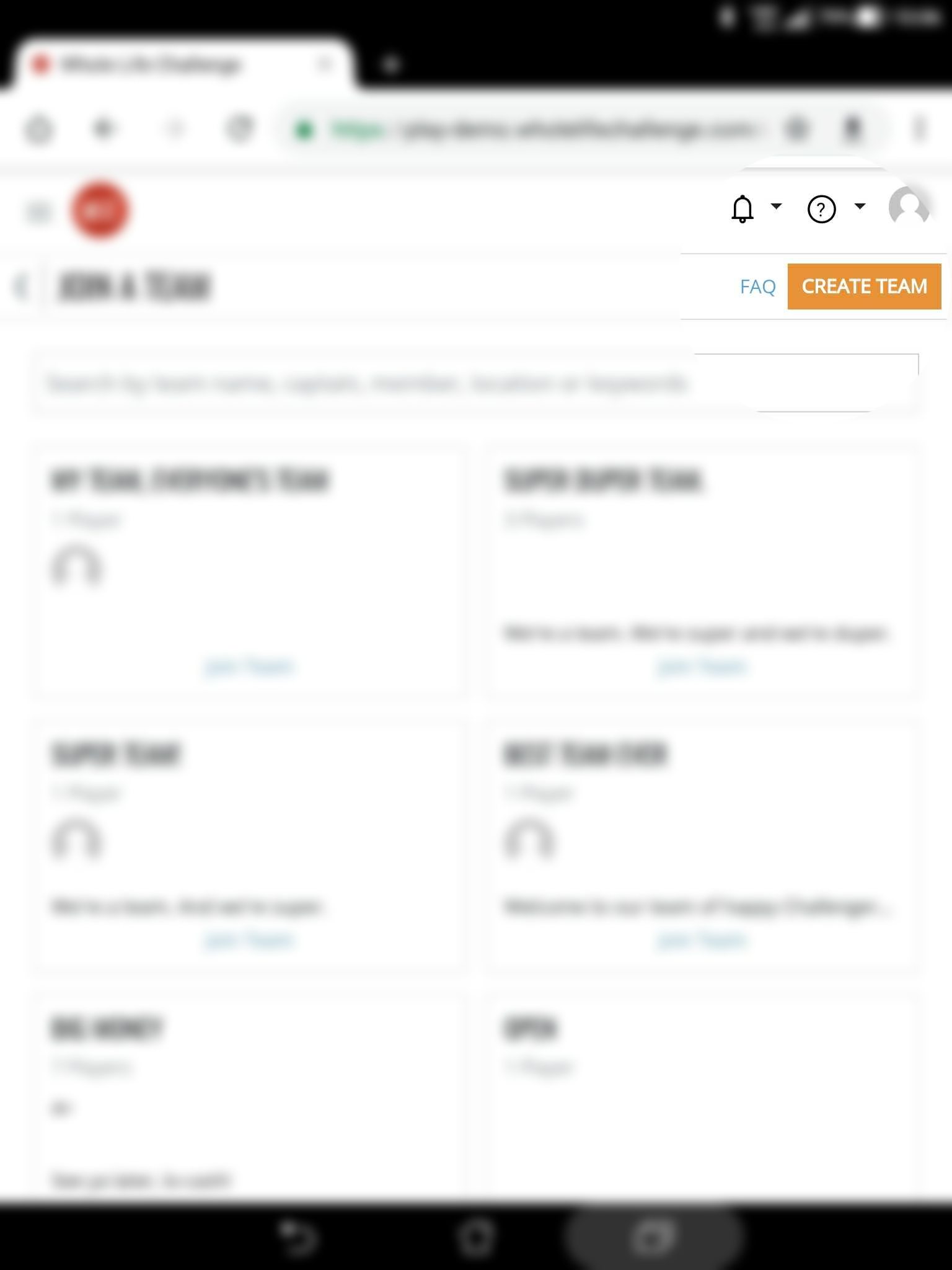 If you would like to partner with the Whole Life Challenge and register an official team, please email Jenna@wholelifechallenge.com for all the details.
I Want to Leave a Team
You are free to leave any team at any time! Open the hamburger menu, tap or click on the team name you with to leave, then click or tap on the red box that says LEAVE TEAM in the upper left corner of your screen. Done!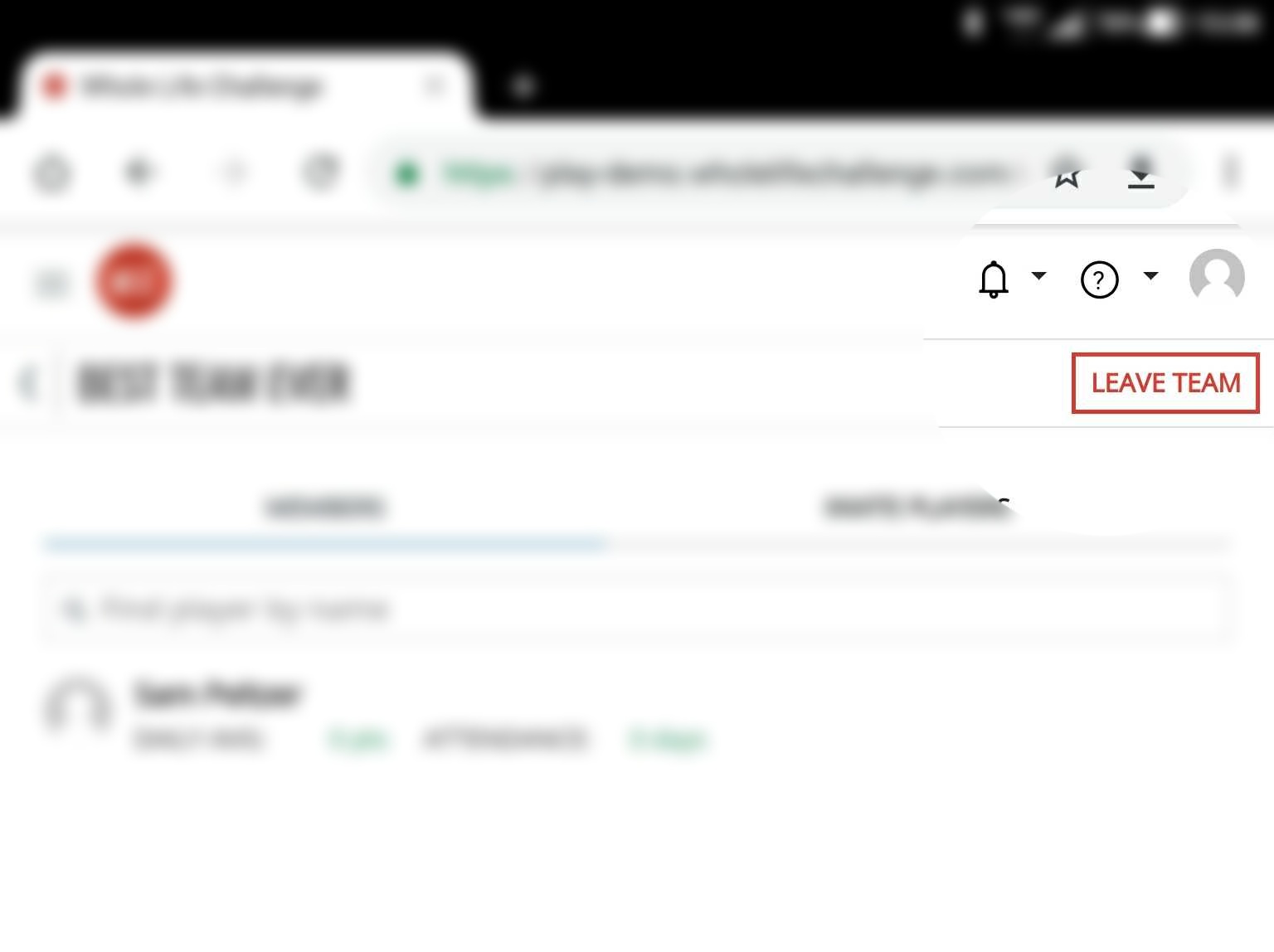 I Need a Team, but I Don't Know Anyone Playing the Challenge
That's OK, the Whole Life Challenge is great for making new friends, friends who will support each other in positive ways. We have set up a private Facebook page called the WLC Team Finder specifically to bring together players and team captains. There, you can read posts from team captains describing what the teams are about, read posts from other players looking for teams, and even gather together a team of your own if you wish.
You are also welcome to browse the team list by clicking on the orange JOIN A TEAM button, then scrolling through the list and reading the descriptions. Remember, you can join or leave up to two teams at any time, so don't worry if you aren't sure about a team. You can change your mind at any time.
I Want to Play the Challenge Alone
That is 100% OK. Many players prefer the solo approach and do very well with that approach. If you ever do decide you'd like to try being on a team, you are always welcome to join one.