How Do I Find and Join a Team After Joining the Challenge?
Please click on the large, orange CREATE OR JOIN A TEAM button on your game dashboard, then use the search function to find a team by name or location. Note that the location search will only work if the team captain entered a location when the team was created. Searching by name is usually the most effective way to locate your team.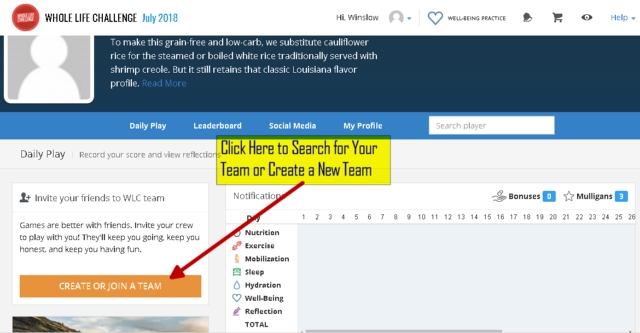 How Do I Create My Own Team?
Starting your own unofficial team is quick and easy once you are signed up. From your game dashboard, start by clicking the CREATE OR JOIN A TEAM button, as in the screenshot above. Then, click CREATE A NEW TEAM on the right hand side of the screen, like this: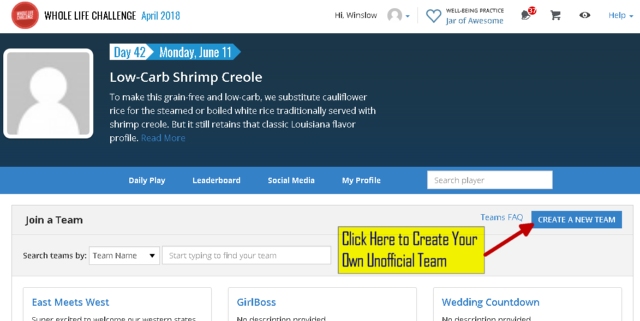 Then, give your team a name and a description and click "CREATE TEAM":

Finally, grab the link and share it with the people you'd like to have on your team. Alternately, you can share the name of your team that players (once registered) can search for and join.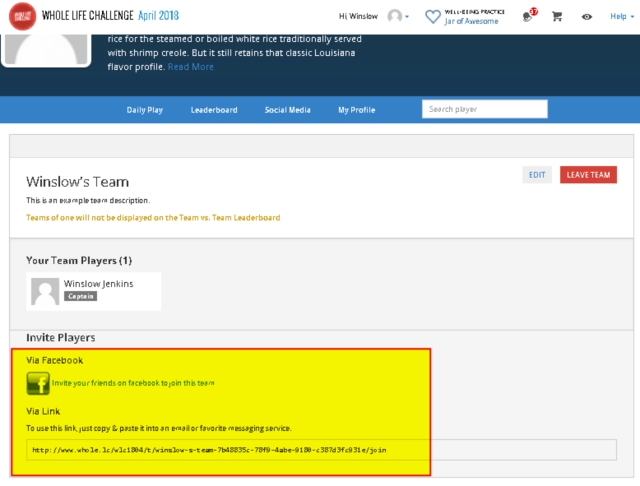 If you would like to partner with the Whole Life Challenge and register an official team, please email Jenna@wholelifechallenge.com for all the details.
I Don't Want to End Up on the Wrong Team
We hear you! Because the Whole Life Challenge works so well when played with others (though you are welcome to play on your own), we've made the process of finding and joining a team or teams very easy. Likewise, changing teams is simple.
Players in the Whole Life Challenge may join up to two teams at any time, and may leave one or both and join another team or teams at any time during the Challenge. There's no risk of getting stuck without a team or getting stuck on a team you don't like.
Team Joining Link
Your team captain may share a joining link with you. If you click this link before you sign up, you'll be placed on that team automatically once you complete your registration. If, for any reason, that doesn't happen, don't worry, you can use the search function once you're registered to find your team by name. You can even click on the joining link AFTER you sign up and you will be added to the team.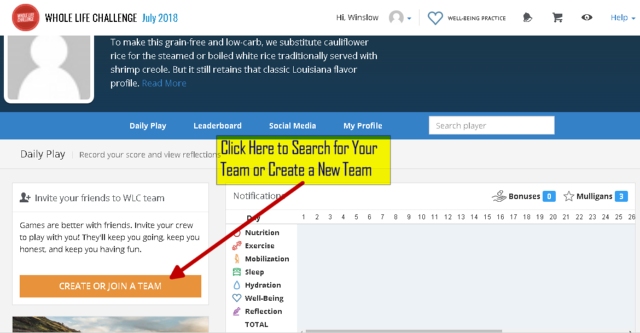 Please note: if you are on a license team (such as when a company pays for its employees to join the Whole Life Challenge), please make sure to use the license link to join the Challenge. This will ensure you pay the correct amount and are placed on the team right away. Please contact support@wholelifechallenge.com if you have any questions about license team signups.
I Need a Team, but I Don't Know Anyone Playing the Challenge
That's OK, the Whole Life Challenge is great for making new friends, friends who will support each other in positive ways. We have set up a private Facebook page called the WLC Team Finder specifically to bring together players and team captains. There, you can read posts from team captains describing what the teams are about, read posts from other players looking for teams, and even gather together a team of your own if you wish.
You are also welcome to browse the team list by clicking on the large, orange CREATE OR JOIN A TEAM button, then scrolling through the list and reading the descriptions. Remember, you can join or leave up to two teams at any time, so don't worry if you aren't sure about a team. You can change your mind at any time.
Is My Team "Official" or "Unofficial"?
While you can be on up to two teams, only one can be an official team. An official team is often connected to a gym or other wellness business, and has a captain who is a strong and dedicated leader. Official team captains have partnered with the Whole Life Challenge to deliver a great experience to participants.
An unofficial team is usually a group of friends, co-workers, church group, or another kind group whose members associate outside of the Whole Life Challenge. Unofficial teams also have a captain, who serves as the touchstone for the group and engages with team members to keep everyone motivated, but all team members on an unofficial team lend support to each other and to the captain.
If you are unsure if the team you're on is unofficial or official, you'll know when you try to join a second team. If both teams are official teams, you won't be able to join the second team. If you decide that the second team is really the one you want to be on, simply leave the first official team before joining the new one.
I Want to Play the Challenge Alone
That is 100% OK. Many players prefer the solo approach and do very well with that approach. If you ever do decide you'd like to try being on a team, you are always welcome to join one.